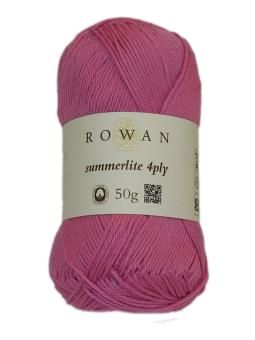 Great news for Baa Baa Brighouse crochet enthusiasts – Rowan have just announced a brand new crochet-along and we'll be taking part!
The crochet-along is due to begin in early Spring and will use Rowan's Summerlite 4 Ply – a beautiful soft matt 100% cotton yarn, available in 12 different shades.
There will be three colourway options to choose from and each colourway will use four shades each.

Participants can choose from three projects – a baby blanket, which will use nine balls of yarn; a ladies wrap/shawl, which will use nine balls of yarn or a smaller project using five balls of yarn, details of which are yet to be confirmed.
Baa Baa Brighouse will be stocking the full range of colours, giving our customers the opportunity to choose from three different colourways and three different projects.
We are awaiting the imminent arrival of stock from Rowan and as soon as further details of the Summerlite crochet-along shopping list are released, we'll be making kits available so that you can choose your project, choose your colourway and get everything you need to take part in the crochet-along in one handy bundle direct from Baa Baa Brighouse.
At £3.95 per ball, the crochet-along is an affordable event to get involved in and you'll be able to save too by purchasing one of our yarn bundles which will include a discount.
Watch this space for further details as they are released!