Baa Baa Brighouse has teamed up with vintage knitwear designer Susan Crawford to offer a free copy of her 'Changing Guards' pattern to customers who purchase any of the Fenella range.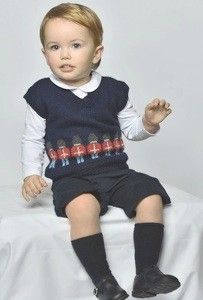 The pattern was made famous when Prince George was pictured wearing a similar design and yarn stores across the UK quickly sold out of the beautiful 2 ply 100% British wool used to make it.

The offer is only available while stocks last but can be used in conjunction with the purchase of any colour or quantity of Fenella yarn.
Should you wish to purchase the yarn used in the pattern, it is available in four sizes – aged 1-2, 2-3, 4-5 and 6-7.
The colours used are Marriner 3 (4, 5, 7), and one skein each of Baked Cherry, Chalk, Charcoal and Forget Me Not for all sizes.