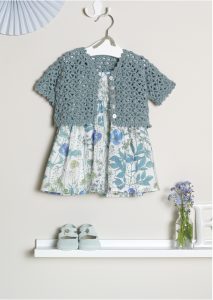 We have some exciting news for fans of non animal based fibres – Erika Knight's Gossypium Cotton is now available at Baa Baa Brighouse.
Our range of Gossypium Cotton had its first outing this month at Spring Into Wool which was held at Leeds Grammar School and the interest we had from customers was overwhelming.
Cotton is a soft, fluffy staple fibre that grows in a protective casing around the seeds of cotton plants of the genus gossypium. Although there are concerns that cotton can be intensive to farm, it is sustainable to grow, naturally soft, breathable and hypoallergenic making it ultimately comfortable to wear and an ideal alternative for vegans and those not wishing to wear animal fibres.
As a natural plant fibre, cotton is also completely biodegradable meaning that harmful micro fibres, such as you might get with man made fibres like acrylic, will not ultimately find their way to the oceans following washing and pose a threat to marine life.
Gossypium Cotton from Erika Knight is a bespoke yarn, which is made in India in the Hisar District in the state of Haryana by an eco-friendly manufacturer who is very much at the heart of the local community, promoting fair labour practices and the welfare and development of its employees.
Through every stage of its creation; from the selection of the raw cotton fibre, which is of the highest quality and grown in the area surrounding the mill, through spinning, dyeing and balling, Gossypium Cotton is crafted for you with care.
The 50g balls are currently available in seven different shades at Baa Baa Brighouse but due to its popularity, we plan to stock all shades of this beautiful yarn in the very near future.
We also have pattern support available with a selection of cute A5 Erika Knight leaflet patterns for babies – a perfect, soft and breathable yarn for little ones.