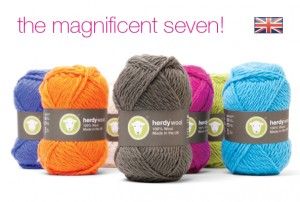 A big Baa Baa Brighouse hello to The Herdy Company as we announce we will shortly be stocking Herdy wool.
Available in seven vibrant and fun shades – blue, green, grey, orange, pink, purple and ecru, Herdy's chunky yarn is 100% wool and 100% British made.
We love the ethos behind Herdy as each year the company donates a percentage of profits to the Herdy Fund, an independently managed charitable fund which helps to support the sustainability of rural communities, upland fell farming and of course, the Herdwick sheep.
Last year the company donated 5% of its profits to good causes, so by buying Herdy wool from Baa Baa Brighouse, you'll be helping to support and protect British, and in particular, Lakeland sheep farming for generations to come!
We'll also be stocking fun Herdy knitting accessories including stitch markers and tape measures.