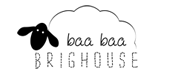 Baa Baa Blends is the brand new yarn for Spring/Summer 2018 from Baa Baa Brighouse. It is a 100% British Wensleydale 4 Ply yarn that is hand dyed to a very subtle gradient.
Each 100g skein is wound into a tight ball before being dipped in a dye bath, allowing the dye to be absorbed by the outer strands of yarn whilst the inner strands of the ball retain their natural colour.
The result gives a beautiful subtle gradient and slight variegated effect to the middle of the skein before returning to the lustrous natural tones of undyed Wensleydale.
Baa Baa Blends is available in six gorgeous shades that take their inspiration from summer puddings – Lemon Meringue, Peach Melba, Strawberry Tart, Gooseberry Fool, Blueberry Pie and Blackcurrant Sorbet.
With a length of approximately 350m, our latest yarn is perfect for shawls, scarfs, wraps and other accessories as Wensleydale is a naturally lustrous yarn with a delicate sheen and fabulous drape. Due to the way in which Baa Baa Blends is hand dyed, you have the choice of knitting from the dyed or undyed end depending on the overall look required of the garment you are creating.
An exclusive pattern to support Baa Baa Blends is currently being designed by Brighouse based designer, Fiona Wardingley, of Knitted for Ewe Designs and will be available to order via the Baa Baa Brighouse website shortly.