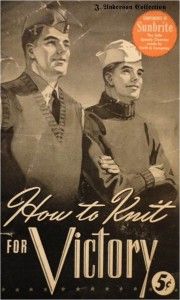 Brighouse 1940s Weekend is set to take place next month on June 7th ad 8th, 2014.
Here at Baa Baa Brighouse we've been commissioned to knit a men's vintage style 1940s tank top.
But we're asking all of our customers to show their support for the event, the wonderful town of Brighouse and for their new local yarn shop by 'Knitting for Victory'.
We're asking you all to share your vintage knits with us on Twitter using the hashtag #BrigKnitforVictory – so if you've knitted something recently or you're planning a special woolly project to wear for Brighouse 1940s Weekend, we want to know about it!
In the coming weeks, we'll be holding a Knit for Victory competition and we'll be giving away a free knitting pattern for Baa Baa Brighouse Red, White and Blue Bunting to get you in the true patriotic spirit.
Brighouse 1940s Weekend attracts thousands of visitors to the town with a full programme of entertainment, a vintage food and craft market, displays, talks and even a flypast by an RAF Hurricane.
So, dig out those needles and yarn and get knitting. Your country needs you!