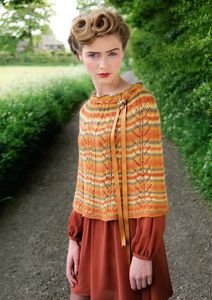 Good news! After a day of photographing yummy yarns in the Yorkshire sunshine, we're delighted to announce the arrival of Louisa Harding yarns at Baa Baa Brighouse.
We know you won't be disappointed by these fabulously stunning additions from the world renowned Yorkshire knitwear designer.
Louisa, who trained with Rowan and still lives in Holmfirth, combines the two elements that we love at Baa Baa Brighouse – vintage style and natural fibres!
We are now proud stockists of a range of Grace and Grace Harmonies yarn which are both made from 50% silk and 50% merino wool. Grace is available in beautiful solid shades of Frost, Cheeky, Willow and Squire, whilst Grace Harmonies, a lovely variegated yarn comes in shades of Beat, Ragtime, Dizzy Swing and Jazz – yarn names that couldn't sound more vintage if they tried.
Both Grace and Grace Harmonies come in 50g balls giving 100 metres of yarn per ball.
Baa baa Brighouse also now stocks a simply stunning range of Amitola, which is made with 80% wool and 20% silk. This is available in Hummingbird, Seascape, Marmalade and two shades of Salsa – a vibrant mix of pinks and reds or deep shades of teal greens and ocean blues. Absolutely gorgeous!
Amitola is a self striping yarn which comes in 50g balls giving 250 metres of yarn per ball.
To compliment the range, we also stock Louisa's pattern booklet, 'Harmony', to be used with Grace and Grace Harmonies yarn. It contains seven signature vintage inspired designs including shawls, capelets and sweaters.
To compliment the Amitola range, the 'Amitola' booklet is available. Louisa's designs look as though they fell right off the page of a script from 'Downton Abbey'. They include scarves, shawls, capelets, berets, beautiful cardigans and glamorous sleeveless tops which really show the Amitola stripes off to their very best.
Louisa's latest published book, 'Knits from an English Rose', is now in stock and brings together a multitude of patterns all in Louisa's typical vintage style – scarves, shawls, hats, gloves, bags – the book has them all and if you're a lover of vintage and in particular, vintage knits, then it really is an investment – a real treasure trove of chic style and loveliness.