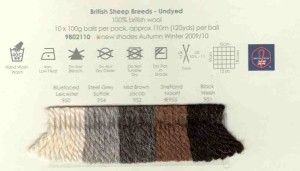 We are incredibly pleased to announce that we will soon be stocking Rowan's British Sheep Breeds yarn – continuing our ethos of supporting British sheep farming and wherever possible, yarn that has a strong connection with Yorkshire.
For all Rowan is now a well respected global company, its roots are firmly in Holmfirth, Yorkshire, making it an important addition to the catalogue of yarns that Baa Baa Brighouse currently offers.
As an annually renewable natural resource, the Rowan Purelife British Sheep Breeds wool is shorn and blended from classic British sheep breeds: Bluefaced Leicester, Black Welsh, Suffolk, Jacob and Shetland.
Spun into beautiful un-dyed shades and with its natural lanolin maintained, British Sheep Breeds Chunky is perfect for warm Autumn and Winter woollies and homeware projects alike.
We will also be stocking a selection of Rowan Pure Wool Worsted, currently being used in the Rowan Mystery Afghan Knit-a-long, Rowan Fine Art Aran, Rowan Felted Tweed, Rowan Fine Tweed, Rowan Kidsilk Haze and Rowan Truesilk – all made with natural fibres, but with Kidsilk Haze and Truesilk offering beautiful alternatives to wool and wool blends.
A range of supporting pattern books will be available and we will also be providing links to free Rowan patterns to help inspire you.