At Baa Baa Brighouse, we aim is to invest in and support Yorkshire sheep farming and the highly skilled, independent small businesses that thrive as a result. That's why we're committed to using wool in at least 75% of the garments we produce and yarn that we stock, in particular Yorkshire's own breed, Bluefaced Leicester.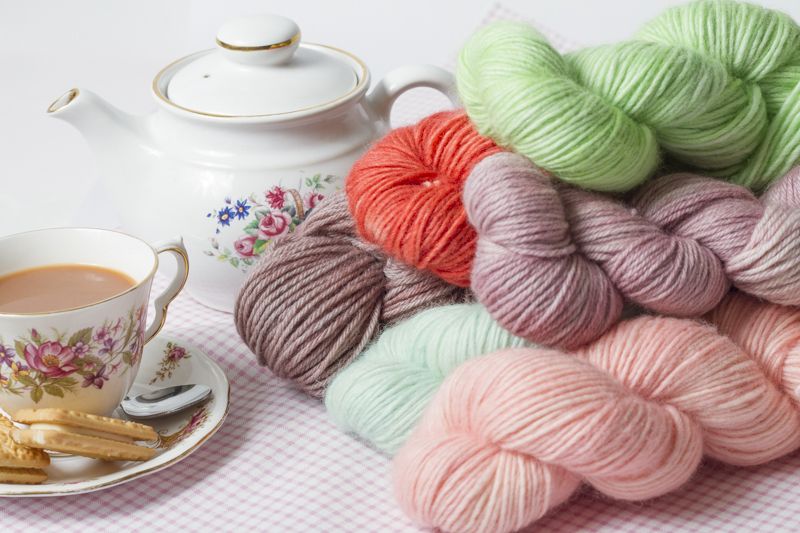 Art Viva

Art Viva manufacture handmade wooden knitting needles in a range of vintage colours and varying lengths. The needles are made from Tasmanian oak sourced from sustainable plantations. Each needle is individually hand crafted and finished using natural, organic oils giving a smooth finish without being slippery. The beads that top the needles are all hand painted using premium quality, non toxic water based paint.
Brittany
Via Designer Yarns in Keighley we supply beautifully ornate knitting needles and crochet hooks with decoratively carved ends from Brittany. Made with Californian birch, they are smooth and warm to the touch. Birch won't drain heat from sensitive fingers the way aluminum and plastic needles and hooks do. The warmth and smoothness of hardwood nurtures sensitive fingers and provides natural strength and consistency for a lasting product. The birch wood used is completely environmentally friendly, being renewable, biodegradable and most importantly durable.
County Alpacas
County Alpacas, based in Sowerby Bridge, West Yorkshire, sources the finest British alpaca fleeces, which are then spun in Yorkshire to create the highest quality, soft alpaca yarn. It is available at Baa Baa Brighouse, the home of Yorkshire yarn, in seven beautifully natural shades – ecru, silver grey, camel, mahogany, ginger twist, treacle and black.
Erika Knight
Erika is a well known knitwear designer and author. She has created a collection of quality, soft hand knitting yarns in gorgeous muted colours reminiscent of the Yorkshire landscape. The wool is spun from British flocks and made entirely in Yorkshire – now at Thomas B. Ramsden's in Leeds. Baa Baa Brighouse stocks yarn from her Vintage Wool range and British Blue range as well as some of her beautiful pencil drawn knitting patterns.
Herdy
Promoting all that is great about Herdwick sheep, The Herdy Company is a brand growing in popularity. Available in seven vibrant and fun shades – blue, green, grey, orange, pink, purple and ecru, Herdy's chunky yarn is 100% wool and 100% British made. We love the ethos behind Herdy as each year the company donates a percentage of profits to the Herdy Fund, an independently managed charitable fund which helps to support the sustainability of rural communities, upland fell farming and of course, the Herdwick sheep. In 2013, the company donated 5% of its profits to good causes, so by buying Herdy wool from Baa Baa Brighouse, you'll be helping to support and protect British, and in particular, Lakeland sheep farming for generations to come!
Joe'sToes
Joe's Toes is a fellow Brighouse based business specialising in a range of woolen felt soles and slipper kits. We have collaborated with Amanda on our Children's Slipper Knit Kits using Herdy wool. Currently available in five different sizes and six different colour combinations, they are a must for funky children's footwear!
Knitted for Ewe
Fiona Wardingley is a talented Brighouse crafter, stationer and is also the owner of Knitted for Ewe Designs. She makes exclusive Baa Baa Brighouse stitch marker sets for us – all with a knitting or craft theme. She also supplies us with our very popular handmade charms, which can be added to your finished knitted garments and more recently has begun designing knit kits and patterns for us. Fiona also supplies us with our Baa Baa sheep earings.
Laura's Loom
Laura Rosenzweig is an artisan weaver based in Sedbergh in the Yorkshire Dales.  She works with small spinning mills to produce a range of fine yarns, sourced directly from farmers in Yorkshire.  Her Bluefaced Leicester yarn is scoured and spun in West Yorkshire and is perfect for fine lacy shawls or chunkier garments if several strands are knitted together.  Her Bluefaced Leicester Naturals Blend is dyed 'in the fleece' which gives a depth of colour which cannot be achieved through package dyeing.  She has also collaborated with Town End Alpacas to create one of the finest lace yarns we have ever come across – a gorgeous blend of Bluefaced Leicester and Suri Alpaca.
Louisa Harding
Louisa Harding is a renowned designer based in Holmfirth. We stock Louisa's natural fibre yarns, distributed by Designer Yarns of Keighley, including Grace, Cassia, Cassia Prints and the beautiful Amitola and Amitola Grande. We love her unique vintage inspired designs such as capelets, fingerless gloves, shawls, hats and scarves and a range of supporting pattern booklets are available via Baa Baa Brighouse. Simply stunning!
Rowan
We're incredibly proud to be a Rowan stockist – a real Yorkshire homegrown yarn brand based only a few miles away from Baa Baa Brighouse in Huddersfield. At first, we were attracted to Rowan's British Sheep Breeds yarn – continuing our ethos of supporting British sheep farming and wherever possible, yarn that has a strong connection with Yorkshire. As an annually renewable natural resource, the Rowan Purelife British Sheep Breeds wool is shorn and blended from classic British sheep breeds: Bluefaced Leicester, Black Welsh, Suffolk, Jacob and Shetland. Spun into beautiful un-dyed shades and with its natural lanolin maintained, British Sheep Breeds Chunky is perfect for warm Autumn and Winter woollies and homeware projects alike. Our range has expanded to include Rowan Pure Wool Worsted, Rowan Super Fine Merino 4 Ply, Rowan Fine Lace, Rowan Felted Tweed, Rowan Kidsilk Haze, Rowan Summerlite 4 Ply, Rowan Hemp Tweed and Rowan Alpaca Merino DK – all made with natural fibres, but with one or two blends offering beautiful alternatives to wool. A range of supporting pattern books is also available.
Susan Crawford Vintage
We stock a range of Susan Crawford's beautiful 100% British wool – Fenella. It is available in an array of vintage shades inspired by Susan's love of knitting patterns from days gone by. Although Susan is now based in Lancashire, she retains strong links with Yorkshire and here at Baa Baa Brighouse we feel her yarn complements our love of all things British and vintage.
Sylvan Tiger Yarn
A selection of beautiful hand dyed British Bluefaced Leicester by Leeds based Sylvan Tiger Yarn is available at Baa Baa Brighouse. As the very first stockist of this gorgeous home-grown Yorkshire yarn, we're very excited to show off the beautiful colourways Katie, owner, of Sylvan Tiger has come up with. From beautiful sea greens to luscious lavender, vibrant pinks to the golden shades of Autumn, we're sure you'll find a yarn you love. Katie uses wool sourced from British suppliers and where possible from British sheep. Natural dye is used in extract form and inspiration is drawn from the local landscapes of Yorkshire, the North York Moors, Yorkshire Dales and the Lake District.
Thomas B. Ramsden
Thomas B. Ramsden & Co are based in Guisley, Leeds. They supply us with the gorgeous Wendy Ramsdale yarn which is made with 100% wool using a blend of Masham fleece from the Yorkshire Dales. It is born, bred and made in Yorkshire and is available in 10 beautiful shades.  As well as Wendy Ramsdale, we occasionally stock Wendy, Peter Pan and Jean Greenhowe patterns and knitting kits by Twilleys of Stamford.
West Yorkshire Spinners
West Yorkshire Spinners, formed in 1997, is one of the few remaining worsted spinning companies left in the UK.  Based in Keighley, they source all of their own raw materials, ensuring that the quality of the yarn they produce is consistently high – something for which I will vouch, having used their Signature 4 Ply in a range of my own projects.  Their beautiful muted Spice Rack, vibrant Sweet Shop range and timeless Country Birds range are available to buy here at Baa Baa Brighouse along with supporting patterns.