I've been promising to review Rowan Felted Tweed for some time now and as it seems that Winter is not quite done with us yet, there's still plenty of time to make use of this unique yarn.
I've used Rowan Felted Tweed in a variety of projects. When I first cast on a pair of walking socks with it, I wasn't sure if a tweedy yarn was the right one for the job. Tweed tends to be one of those yarns where you either love it or you hate it and I hadn't quite made my mind up.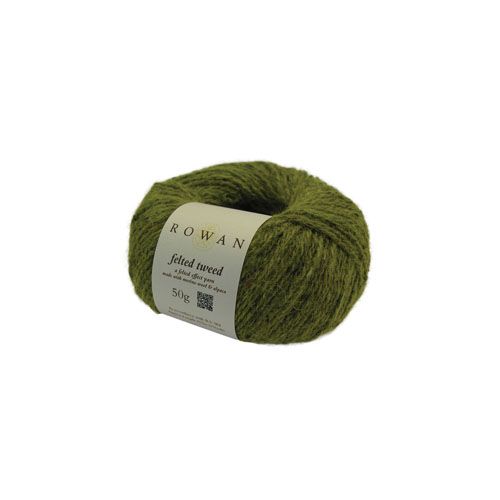 Unlike some tweeds though, it is very soft with none of the harsh, prickly, rough garden twine feel that people traditionally associate with tweeds. Rowan Felted Tweed is a blend of Merino wool and alpaca, which gives it its plump softness. It is also spun with 25% viscose to give it a degree of strength.
However, the true beauty of this yarn can really be seen after a garment is blocked. I persevered with the walking socks and I'm so glad I did. At the time of knitting them I thought the fabric crinkled and you do have to be careful when handling the yarn to avoid breakages but it kept it's shape and once blocked, gave a beautiful lustrous sheen to the finished item.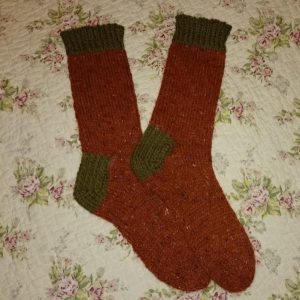 I knitted this pair of socks in Ginger and trimmed them with Rowan Pure Wool Worsted in Hazel.
Another big plus with Rowan Felted Tweed is that it comes in a gorgeous, rustic colour palette which is quite timeless, meaning your knits with stand the test of time much longer – not just because it's a quality yarn but because it won't go out of fashion.
That brings me to Marie Wallin's 'Windswept Collection One' pattern book for .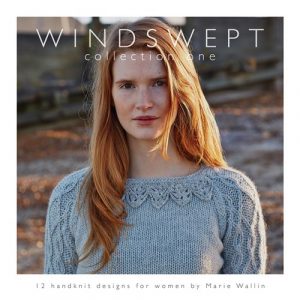 The book features 12 handknit designs for women, some of which have optional crochet trim. The designs really show off Marie's flair for colourwork and predominantly, Rowan Felted Tweed and Rowan Fine Tweed are used throughout, with the exception of one or two patterns which use Cocoon and Felted Tweed Aran. Incidentally, Rowan Fine Tweed is currently one of the bestselling yarns at Baa Baa Brighouse.

It is no surprise that Marie chose to work in Rowan Felted Tweed as the yarn lends itself to colourwork and Fairisle patterns so well.