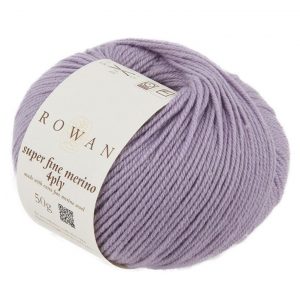 Rowan Super Fine Merino 4 Ply is one of those dependable yarns that really does what it says on the tin, or ball band, so to speak. Finding myself in the rare position of lacking a work in progress on my needles and faced with a week on the windswept Isle of Harris, I wanted to pack some yarn in my Baa Baa Brighouse Knitting Bag that would knit up easily and adapt itself to a range of projects, having yet to decide what I actually wanted to knit.
I had some Yan Tan Tethera Yarn Club hand dyed yarn lurking at the bottom of my bag and hastily grabbed some Rowan Super Fine Merino 4 Ply in colours that I thought might complement the deep purple and burnt orange tones of the bespoke yarn.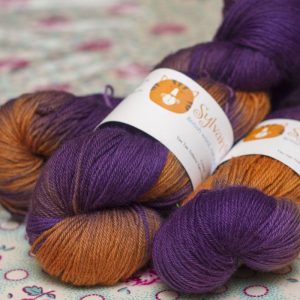 I chose the shades Lilac 163 and Fresh 167. I had an inkling that a shawl might be on the cards but one that wasn't too complex in its construction so that it showed off the yarn to its advantage rather than detailed lace patterning. The landscape of Harris is inspiring and I couldn't help but compare the yarns I had brought with me to the heather clad hills and long summer grasses that cover the island. So it was that the Heather and Heath Shawl came to be.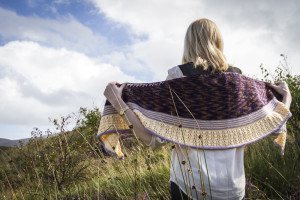 The Rowan Super Fine Merino 4 Ply was perfect. It brought out the darker tones of the hand dyed yarn and was a dream to knit with. As a 100% Merino wool, it glided off the needles and created a beautifully soft fabric. This particular project didn't even use a full two 50g balls of the yarn so that there was enough left in each colour to start another project afterwards.
Merino has a natural elastic quality to it which allows for movement and stretch in a garment, it was ideal to give a degree of drape to the edge of the Heather and Heath Shawl when contrasted with the more dense weight of the hand dyed yarn.
Available in eight colours from Baa Baa Brighouse, Rowan promotes this yarn for baby and children's knits and with its silky smooth quality, it's easy to understand why. A breathable fabric is produced with this yarn which keeps you warm when its cool and vice versa. It is labelled as a 4 Ply but in many ways has a bouncy quality you might get with a traditional DK. Rowan Super Fine Merino 4 Ply can be adapted to a whole range of projects for adults and tots alike as a solid, dependable, core yarn.