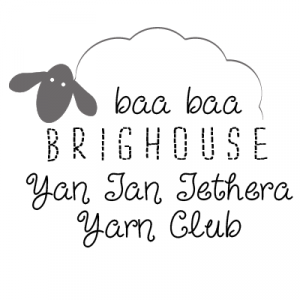 Welcome to the Yan Tan Tethera Yarn Club Gallery 2014 Archive. This is where we seek to showcase all of the fantastic garments members of the club have made using their monthly yarn subscriptions.
December 2014
'Red Robin' by Jodi Rooke of Cuddlebums based in Halifax. Jodi used a yarn mix of 80% Bluefaced Leicester and 20% silk for the project, giving a length of 800m or weight of 100g.
Fiona Wardingley created this amazing scarf, the colour created a fantastic repeating pattern.
Elaine made a version of Karie Westermann's 'Proserpine Shawl' with added knitted flowers and beads. She then made a pair of fingerless mitts of her own design, again adding flowers and beads.
November 2014
'Walled Garden' was made by Louise Lavender of The Cryptozoologist. Club members received a main skein and a contrasting mini skein of 100% Jacobs DK which combined purples, greens, yellows and greys.
Elaine made a pair of fingerless mitts in a herringbone pattern for her husband – something to keep his hands warm when he's doing outdoor photography.
She also made a pair of socks and still had some yarn leftover so trimmed a little shrug for her daughter with it – fantastic value!
Rachael Singh also opted for a pair of fingerless mitts in a different pattern using rib and stocking stitch.
Fiona Wardingley knitted up a pair of lovely slippers, finished with a contrasting flower and non-slip soles from our friend, Amanda, at Joe's Toes.
October 2014
'Autumn Abbey' was dyed by Crystal Flanagan of Domesticated Human. Club members received 100g hanks of 100% Bluefaced Leicester roving yarn by West Yorkshire Spinners – a bulky weight yarn ideal for warm and cosy knits.
Crystal also created an exclusive pattern for the club – the Autumn Abbey Cowl, modeled in the picture by her mother-in-law.
Club member, Elaine, chose to knit some Winter walking socks for her husband's birthday. She mixed the yarn with some Rowan Felted Tweed in Ginger, complementing the orange tones of Crystal's yarn.
Fiona Wardingley made a pair of gorgeous slippers and finished them off with fantastic matching non-slip felt soles from Joes's Toes.
September 2014
'Marsden Moor' was dyed by Katie Pearce of Sylvan Tiger Yarn. Club members received 100g skeins of 100% Bluefaced Leicester 4 ply yarn in a gorgeous burnt orange colour.
Elaine made a close-knit scarf with tassels for her husband, Gary, for Christmas. She mixed it with some Titus by Baa Ram Ewe that she had leftover from another festive project. Here's Gary wearing the finished garment.
Fiona Wardingley made a pair of pretty lace fingerless gloves. We're sure you'll agree, they're lovely!