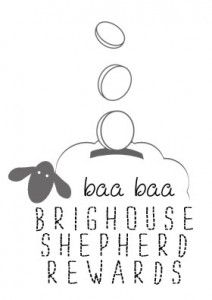 At Baa Baa Brighouse, we want to reward you for buying your yarn and knitting or crochet accessories from us by giving you something back! Knit with Baa Baa Brighouse and earn sheep for your flock!
That's our Baa Baa Brighouse Shepherd Reward Scheme.
As soon as you make a purchase, whether of beautiful Yorkshire yarn, patterns, vintage style knitting needles or any other fibre craft accessories, we automatically create a loyalty account for you and enter you into our reward scheme so you start earning sheep straight away.
We credit your account with 5 sheep for every £1 you spend at Baa Baa Brighouse, we even give you a 50 sheep starter just for creating an account with us. One sheep is worth 1 penny for redemption.
Log in to your account to see how your flock has grown!
And don't worry if you've already purchased with us previously – we've backdated all rewards for existing customers so nobody misses out!