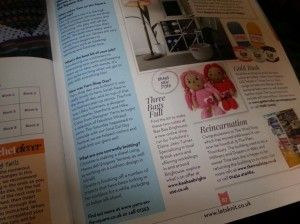 Have you seen the July 2014 issue of Let's Knit Magazine yet? Baa Baa Brighouse is featured on the 'What's in Store' page as a brand new online knitting and yarn shop!
Our Dolly Knitting Kits by Gift Horse Knit Kits have also proved popular since popping up in the magazine. We also stock a Little Robot Knit Kit that is perfect to make for a little boy as well as Scruff the Dog Knit Kits and a Bunny Mini Knit Kit starting at just £10.
We're delighted to be working with Let's Knit Magazine on a special British yarn basket giveaway in a future issue. Watch this space for more details!