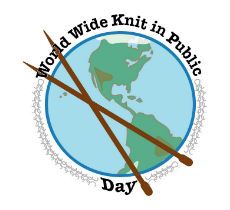 Tomorrow (Saturday June 13th) marks the 10th anniversary of World Wide Knit in Public Day!
It also coincides with the first anniversary of the launch of Baa Baa Brighouse and the setting up of our regular Knit and Natter Group which is held at Rastrick Library, Crowtrees Lane, Rastrick on the first and third Saturdays of every month.

To celebrate, we are hosting our very own World Wide Knit in Public Day event at the library from 10.30am to 12.30pm and we're inviting everyone who is anyone to come and join us.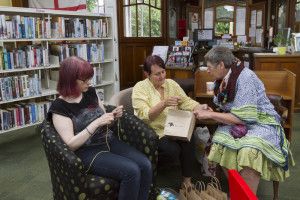 If you're a seasoned knitter or crochet enthusiast, simply bring along your current work in progress. If you've never picked up a pair of knitting needles before, come along and have a go – we'll be happy to show you how to get started.
People of all ages and abilities are welcome and if you have little ones, feel free to bring them along too as we always organise some simple woolly related crafts to keep small hands busy.
Refreshments will be available including tea, coffee, juice, cakes and biscuits and the event is absolutely free to attend – we simply ask for a small donation towards the cost of refreshments of whatever you can afford.
We will also be holding a raffle in aid of the Friends of Rastrick Library who do so much to organise special events and encourage people through the door to make use of this fantastic venue and community resource.
World Wide Knit in Public Day is a wonderful way to meet like-minded crafters, perfect some skills or learn some new ones with people who will provide guidance and encouragement all in a relaxed, informal and friendly atmosphere.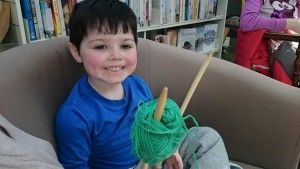 World Wide Knit in Public Day was started in 2005 and is now the largest knitter-run event in the world aimed at bringing people together to celebrate their craft.
If you're stuck for what to knit on World Wide Knit in Public Day, you could help the UK Hand Knitting Association break a World Record – they are just 65 metres away for knitting the longest linked chain.
You can download a copy of the pattern here: Longest Chain Pattern, but however you decide to celebrate World Wide Knit in Public Day…have fun and happy knitting!