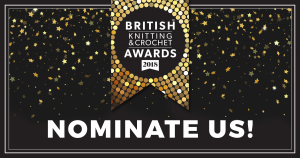 The British Knitting & Crochet Awards are run every year by Let's Knit and Let's Get Crafting magazines, and are widely recognised as the biggest and most important awards in the yarn industry.
There are three stages to these awards and nominations are now open for stage one with a total of 25 categories. We would love it if you could consider sparing a few minutes of your time to nominate Baa Baa Brighouse in the best online and best independent yarn categories…or any other category you think we may fit into!
Suggestions are compiled into a shortlist which is then put to the vote and the overall winners are announced at the end of September.
If you take part, you will automatically be entered into a draw to win one of three fabulous woolly prizes. One lucky winner will receive a massive bundle of yarn and accessories worth £300 and two runners-up will receive a bundle of knitting and crochet books worth £50.
As well as recognising the most successful names in the industry, The British Knitting & Crochet Awards also celebrate the smaller players such as independent stores and small yarn producers such as ourselves.
To win one of these coveted awards is a wonderful honour as they are voted for entirely by those whose opinions matter most, the knitting and crochet public. Last year there were almost 15,000 votes cast across 30 categories – a 5% increase on 2016 – showing once again how important these awards are to yarn crafters across the country. It would be wonderful if you could help Baa Baa Brighouse take a step closer to winning an award.
Nominations close on April 12th so please visit The British Knitting and Crochet Awards 2018 and complete the questionnaire. Thank you for all your fantastic support!