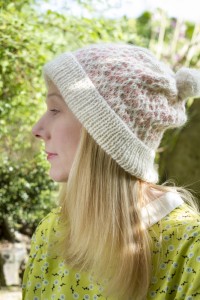 Back in June we launched the Sprig Beanie Hat Knit Kit featuring our very own Baa Baa Brew DK hand dyed British Bluefaced Leicester yarn. Of course, June wasn't exactly the right time to be donning woolly hats but now that we're moving into Autumn, it's the perfect season to think about knitting stylish, cosy beanies to keep the chills at bay.
The pattern and kits were designed and developed by Sandra Nesbitt of The Feminine Touch which, like Baa Baa Brighouse, is based in West Yorkshire. Sandra regularly designs for magazines such as The Knitter, Simply Knitting and Knit Now.
Sandra discovered our Baa Baa Brew Mini Skein Boxes on Yarn Shop Day and decided our range of colours would be perfect for the mosaic hat pattern she had in mind.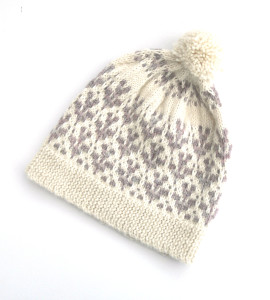 She teamed our yarn with some gorgeously soft natural alpaca to create the Sprig Beanie Hat Knit Kit. The design itself looks far more complex than it actually is, relying for the most part on the slip stitch technique to carry the contrasting colour to the next row. It's a really enjoyable pattern to work on, grows quickly and the end result looks incredibly impressive. A really beautiful garment.
The kits are available in the whole range of Baa Baa Brew colours – Hove Edge, Rastrick, Thornhills, Brookfoot, Woodhouse and Clifton and come packaged in a lovely Kraft box tied with premier satin ribbon. They include all the yarn and written instructions and charts needed to make the Sprig Beanie Hat.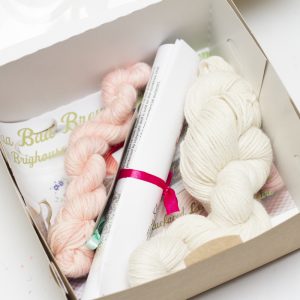 The kits make excellent gifts for knitters wanting to take their skills a step further or why not knit up the Sprig Beanie Hat for yourself or as a gift for a loved one?