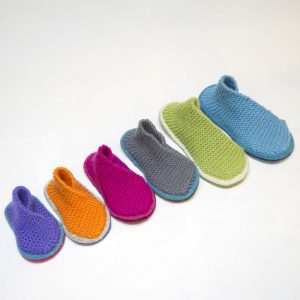 Since setting up Baa Baa Brighouse a little over a year ago, there's nothing I've enjoyed more than collaborating with creative people to promote everything that is great about the British wool industry and yarn that has been farmed, spun or dyed in Yorkshire.
Of the many projects I've had the privilege to be involved in so far, working with Joe's Toes, a fellow Brighouse based business, on producing our brand new Children's Slipper Knit Kits featuring Herdy wool, has encompassed all of the values that were important to me when I first thought about owning a yarn store.

British farmers and shepherds have a tough time. Our winters can be harsh and a flock needs to be taken care of whatever the weather. We may not pay much attention to the journey a ball of yarn has had when we cast on our next knitting project, but it takes time, patience, care and a lot of effort and endurance to get from sheep to shop.
That was why I was determined from the outset that Baa Baa Brighouse would specialise in British yarn and pay homage to those involved in its production. Also wool is natural, renewable and unlike some man-made fibres, biodegradable and if we can help protect the environment, even just a little bit, for future generations, then that can only be a good thing!
Using Yorkshire sourced, spun or dyed products helps to support the local economy and if you've been following Baa Baa Brighouse on social media, you'll know that we are very keen to support the work of small indie dyers through our monthly Yan Tan Tethera Yarn Club.
Wherever possible we use recycled packaging and encourage our customers to recycle what they can too whether it's the ribbon we use to tie up your yarn parcel or the brown paper bags we use at all of the fairs, festivals and shows we attend.
Given the similarities in our ethos, it wasn't long before Amanda of Joe's Toes and I put our heads together and collaborated on a project.
Amanda specialises in creating non-slip woollen felt slipper soles that are also biodegradable and kind to the environment, so a pairing of felt soles with Herdy wool seemed like a natural and obvious choice.
Herdy wool is 100% British and through the Herdy brand helps to promote and sustain the Herdwick sheep breed and traditional upland fell farming communities of the English Lake District.
The wool is spun in Guisley, Yorkshire, which supports the local woollen industry and the vibrant colour palette makes it a perfect choice for funky children's footwear!
Available in six different colour options and five different UK children's sizes with easy to follow instructions, we're sure you'll love our Children's Slipper Knit Kits as much as we do!