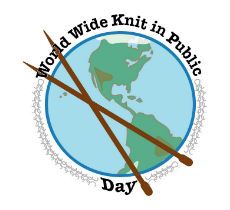 A big thank you to all who attended our World Wide Knit in Public Day event at Rastrick Library this morning!
A fun time was had by all and £20 was raised in our woolly raffle for Forget Me Not Children's Hospice.
Special thanks to all the staff and for all their support in making the day a success.
We'll be back at Rastrick Library on July 5th, 10.30am – 12.30pm for our regular Baa Baa Brighouse Knit & Natter – everyone is welcome, so please come along and join in. We meet on the first and third Saturdays of every month.
Really pleased to have been invited along to Clifton Knit & Natter on Wednesday as well to tell members all about Baa Baa Brighouse!