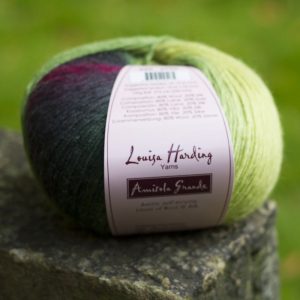 Some of you will be aware of the sad news that Designer Yarns, distributor of Louisa Harding Yarns, Debbie Bliss, Brittany needles and crochet hooks and others went into administration shortly before Christmas with the loss of 12 jobs.
Unfortunately, this will affect the future supply of these brands to our own customers. We understand that Knitting Fever, an American based company will take over the distribution of the Louisa Harding range direct to the UK. However, after careful consideration, we have taken the difficult decision to no longer stock Louisa Harding yarns and patterns once our current stock is depleted.
Prior to the collapse of Designer Yarns, based in Keighley, West Yorkshire, we had found several colourways difficult to restock so our remaining ranges of Amitola, Amitola Grande, Cassia and Cassia Prints will continue to be available at a discounted price after January along with Louisa Harding patterns and books.
At present we only stock Falkland Aran from the Debbie Bliss range, its organic production appealing to the ethos of Baa Baa Brighouse.
We don't yet know what will happen with the Debbie Bliss brand but would like to continue to stock this yarn if at all possible. At the moment our stocks of Falkland Aran are plentiful, however, because of the present uncertainty, we would advise you to purchase this and our Debbie Bliss patterns whilst stocks last. They are currently available at a discounted price.
We understand that Brittany are currently in talks with another UK distributor and if these talks come to fruition, we hope to continue to stock their beautiful range of needles, crochet hooks and shawl pins.
Finally, as we will be losing at least one range from our repertoire, our plan for 2018 is to expand the yarns we offer our customers elsewhere. With this in mind we will very shortly be stocking Coopknits Socks Yeah! as well as expanding existing ranges with new Spring and Summer yarns.