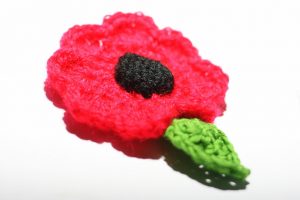 On the eleventh hour of the eleventh day of the eleventh month we will remember them.
This year we mark the 100th anniversary of Armistice Day and Baa Baa Brighouse has teamed up with the Brighouse Incredible Yarnbombers to decorate the town with knitted and crocheted poppies.
Brighouse Business Initiative are busy organising a community event for the anniversary but have challenged us to poppy bomb Brighouse.
We will need as many as possible along with some six inch squares in shades of green.
Baa Baa Brighouse is acting as a collection point for finished donations. They can be dropped off at or posted to Baa Baa Brighouse, 11 Church Street, Rastrick, Brighouse, West Yorkshire, HD6 3NF or brought along to one of our Knit and Natter sessions at Rastrick Library or LoveBread in Brighouse.
Last year, the Brighouse Incredible Yarnbombers decorated the town to celebrate the Tour de Yorkshire. Follow the link to read more about it and watch a video of their efforts.
Feel free to use any poppy knitting or crochet pattern you feel comfortable with or visit The Royal British Legion for ideas.