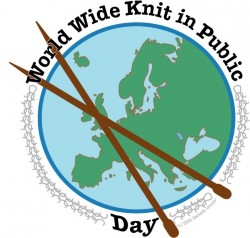 Join Baa Baa Brighouse on Saturday June 10th, 2017 for World Wide Knit In Public Day.
World Wide Knit in Public Day is the largest knitter run event in the world. It started in 2005 and is now celebrated in more than 57 different countries.
Our event will be held at LoveBread Bakery in Brighouse and we will also be supporting the Big Woolly Weekend in association with Begere De France, Knit for Peace and the Jo Cox Foundation.
As part of the Big Woolly Weekend, crafters are being asked to knit blanket squares that can be used to decorate towns the following weekend as part of The Great Get Together which aims to celebrate the values of Jo Cox. Afterwards, the squares will be sent to Knit for Peace.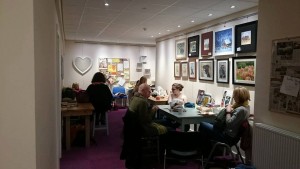 The charity, which grew out of projects in Rwanda and India to bring hostile tribes together, will then donate the knitted squares to fistula hospitals across Africa. Fistula is a painful and degrading condition caused by obstructed labour. Here, women are given life changing operations and provided with a safe environment for childbirth, preventing the occurrence of obstetric fistula in the first instance.
Expectant mothers, and women recovering from surgery stitch the squares into blankets for themselves and their babies. This gives them something to do during their rehabilitation, handicraft skills, and the gift of a blanket they can take home with them.
Baa Baa Brighouse recommends using DK yarn for the squares. A Debbie Bliss pattern is available for purchase on the Knit for Peace website, however, there is no standard blanket square pattern to use so you can source your own.
Our event starts at 10 am and finishes at 12 noon. All finished blanket squares can be dropped off at Baa Baa Brighouse HQ, 11 Church Street, Rastrick, Brighouse, West Yorkshire and we'll make sure they get to where they need to be.
Freshly baked bread/toast along with tea, coffee and juice will be available. So, bring your needles and yarn (we will have some spares available) and come along to celebrate our knitting and support a good cause. Hope to see you there!