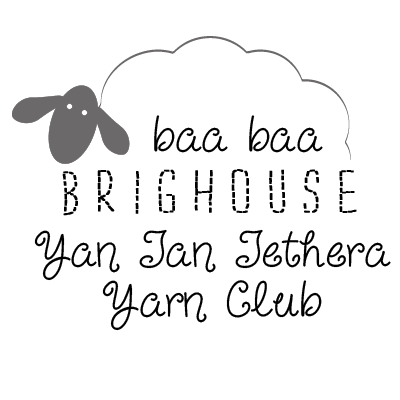 As we come to the close of another busy year at Baa Baa Brighouse, I like to take time to reflect on what we have achieved over the last 12 months.
Our Yan Tan Tethera Yarn Club, which was launched four years ago, has gone from strength to strength this year and now has six permanent indie dyers working for it on a rota basis.
It is a blessing and a privilege to be able to work alongside such a talented and diverse team, who whilst sharing a passion for British wool, bring their own brand of uniqueness to the creative process.
We began 2018 with a brand new dyer, Homespunwonders, a mother and daughter team from Sheffield, South Yorkshire., who rose to the challenge of dyeing January's yarn based on the picture, 'View Above Langsett' by Shutterspot Photography.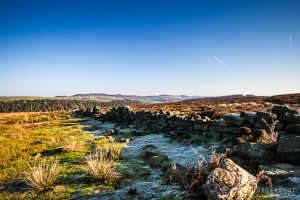 Heather and Katie did a marvellous job of capturing the colours of the Yorkshire landscape with their sock yarn offering of the same name: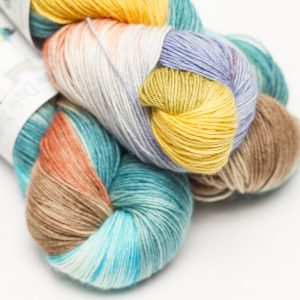 Though newcomers to the club, we could not have wished for better dyers to work with and they now fit seamlessly with our fellow dyers: Cuddlebums, Sylvan Tiger Yarn, Hot Butter Yarns, The Cryptozoologist and of course, Baa Baa Brighouse.
Throughout the year, we try hard to choose pictures from Shutterspot Photography that match the seasons and significant events throughout the year and so having highlighted spring bulbs, summer blooms and autumn leaves, we ended the year with something festive, "Christmas Trees', which was taken during a special festival of lights display at York Museum Gardens, North Yorkshire.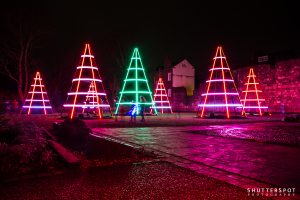 Jodi Rooke of Cuddlebums based in Halifax, West Yorkshire, was inspired to create "Neon Christmas Trees" as a result: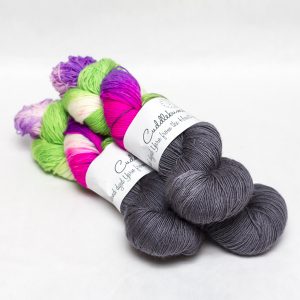 We can't wait to see what our dyers create during 2019. If you're an experienced indie dyer interested in working with Baa Baa Brighouse, why not get in touch?
Alternatively you can sign up to our 2019 Yan Tan Tethera Yarn Club on a month by month basis, so if that month's picture isn't your cup of tea, simply give it a miss – you're not tied into the club! Sign ups for our February Yan Tan Tethera Yarn Club are now open!