In the post Brexit referendum/post Trump elected world that we are currently living in, it is often difficult to feel like you are making a difference.
With an ever increasing reliance on foodbanks, the number of homeless people on our streets growing day by day, children being plunged into poverty by callous welfare reforms, a healthcare service close to breaking, the disabled being ruthlessly ignored and none of us really having a clue what to expect come March 29, the world can feel like a selfish, uncaring place.
For the past two years, at least, the UK has been divided and seeds of hatred, suspicion and intolerance sown. I fear things will get worse, much worse, before they get better. For that reason, I have tried to focus on the positive whether that's creating yarns that can put a smile on someone's face, involving myself in community knitting projects or simply showing up at our much loved knit and natter sessions – a place where everyone can unburden themselves and not feel judged.
One other positive to come from this year is that Baa Baa Brighouse has been involved in raising funds for a number of worthy causes by creating bespoke charity yarns.
We first caught the bug with Countess Ablaze and her Tits Out Collective. Through that initiative, we raised £189 for the WomenCentre in Halifax, West Yorkshire.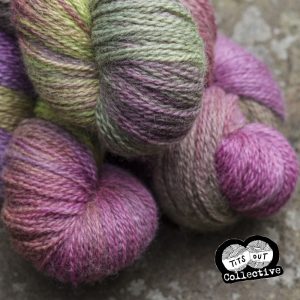 Our "Carnival of Resistance" yarn, in protest of President Trump's visit to the UK, raised a total of $126 for the American Civil Liberties Union.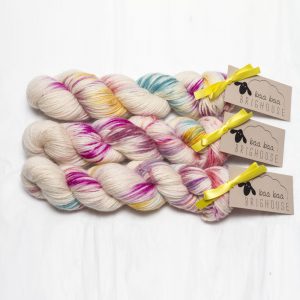 We raised £100 for the Batley & Spen Youth Theatre Company with our 'Deeds Not Words' yarn.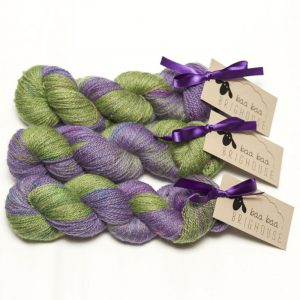 We also donated $25 to The Vitalogy Foundation and £26 to the Royal National Institute for the Blind following the creation of a limited edition yarn, "There Ain't Gonna Be Any Middle Any More" and a sales drive in which we gave 25% of our takings on Black Friday weekend to charity.
Baa Baa Brighouse has decided that because, like most, we feel unable to influence social, political or economic change in any significant way, it can instead take care of its own very small corner of the world.
In 2019, we will be releasing a monthly charity yarn where £3 of every skein sold will go to a chosen charity (this too will change on a month by month basis to enable us to help more deserving causes).
Our chosen charity for January will be Tourettes Action in recognition of our daughter, Florence, who suffers with tics due to severe anxiety at school.
Tourettes Action aims to support children like Florence in the classroom, train behavioural therapists, pay for support group meetings and provide resources to schools so that they can better assist youngsters with tics and tourettes in managing their condition.
We will launch "Tics Don't Define Me", a 100% British Bluefaced Leicester DK yarn at 12 noon GMT on New Year's Day, Tuesday January 1st. Watch this space!