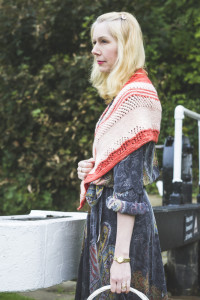 As keen supporters of The Campaign for Wool, Baa Baa Brighouse is launching the Ganny Lock Knit-A-Long (KAL) to celebrate UK Wool Week 2016 and encourage knitters everywhere to support the British wool industry.
Ganny Lock is a warm and cosy wraparound shawl and is the first pattern to be designed in-house solely using Baa Baa Brew, our 100% British Bluefaced Leicester DK yarn which is reared and sheared in the UK, then spun in Yorkshire and hand dyed here at Baa Baa Brighouse HQ using traditional methods.
It is available in eight colours, including two new shades for the Autumn/Winter 2016 season which were officially launched at Yarndale 2016. All of the shades, known collectively as 'The Brighouse Collection', are named after areas of Brighouse, the town in which the yarn was dyed. They are Thornhills, Woodhouse, Brookfoot, Rastrick, Clifton, Hove Edge, Bailiff Bridge and Wellholme.
The inspiration for Ganny Lock came from the Calder and Hebble Navigation Canal which at one time played a crucial role in the Yorkshire textile industry and wool trade, carrying raw fleece for spinning at the many mills that litter the Yorkshire landscape and taking the finished products off to the surrounding towns and cities to be sold.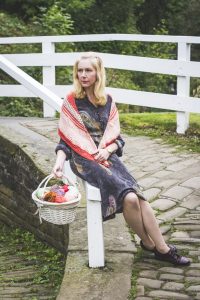 The shawl uses two contrasting skeins of Baa Baa Brew. It features stocking stitch, lattice lace sections, stripes and a waved lace edging symbolic of the water on the canal.
The Ganny Lock Knit-A-Long will take place over two weeks beginning on Monday October 10th to coincide with the beginning of Wool Week, with pattern installments sent out to participants via email direct to their inbox.
Sign up to the Ganny Lock Knit-A-Long, get a head start on that Christmas knitting and receive all seven pattern installments. We'd love for you to share pictures of your progress and finished project with us on our social media pages or alternatively email pictures to info@baabaabrighouse.co.uk