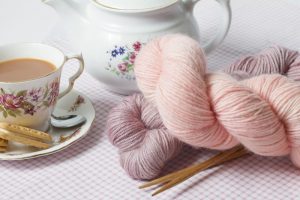 Yorkshire based online yarn store, Baa Baa Brighouse, has launched its very own brand of hand dyed yarn – Baa Baa Brew.
Known as 'The Brighouse Collection', the DK yarn is available in six subtle semi-solid colours, each of which is named after an area of Brighouse, the town where it was 'brewed' or dyed. They are Rastrick, Woodhouse, Brookfoot, Hove Edge, Clifton and Thornhills.
Available in 100g skeins, Baa Baa Brew is a 100% British Bluefaced Leicester yarn which is spun in Yorkshire before being dyed by hand in Brighouse using traditional, small scale methods.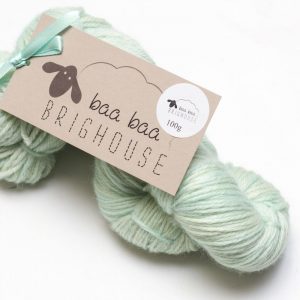 During the dyeing process, each skein is immersed in its own dye bath and left unagitated, allowing the dye to absorb naturally which results in subtle variations in colour. The yarn is then air dried, wound, re-skeined and tied by hand before a Baa Baa Brighouse label is attached with satin ribbon.
Baa Baa Brew retails at £14 per skein and is available exclusively from Baa Baa Brighouse.
Baa Baa Brew Gift Boxes are also available for those special occasions. They make the perfect present for any knitter or tea enthusiast.
Each box contains a skein of Baa Baa Brew, a Baa Baa Brighouse 'Time for a Baa Baa Brew' mug, a 250g packet of Yorkshire Gold loose leaf tea by Taylors of Harrogate, sweet treats from Lottie Shaw's, including a slice of their Yorkshire Parkin, which is made to a 100-year-old recipe at their craft bakery in Elland and a lavender bag from Yorkshire Lavender to keep yarn smelling beautiful. Presented in a crisp, white gift box and wrapped in satin ribbon, Baa Baa Brew Gift Boxes retail at £35 each and are available exclusively from Baa Baa Brighouse.
Elaine Jinks-Turner, owner of Baa Baa Brighouse which was set up in 2014, said: "I couldn't be happier that Baa Baa Brew has finally arrived. It has been a project I have been working on for many months and has taken a lot of time and effort to plan and prepare the product for sale.
"Baa Baa Brew is a beautiful yarn and the colours are so lovely – really reminiscent of spring so this seems like an ideal time to introduce it."
Elaine is currently working on some Baa Baa Brew Mini-Skein Gift Boxes which she hopes will be ready in the next couple of weeks.
"As the yarn is all dyed and prepared by me, the whole process can take some time but I would love to be able to build on Baa Baa Brew, expand its colour range and eventually wholesale it to other retailers," said Elaine.
Customers will be able to view the yarn for themselves at its official launch at the regular Baa Baa Brighouse Knit and Natter session at Rastrick Library, Crowtrees Lane, Rastrick, on Saturday March 5th from 10.30am – 12.30pm. All ages and abilities are welcome at the group which runs on the first and third Saturdays of every month.